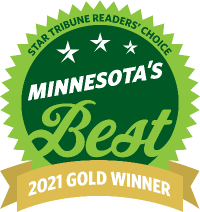 The people of minnesota voted    
We are honored to accept this very special award.
Voted in by the people "Best of Laser Hair Removal in Minnesota 2021".
Thank you for acknowledging our consistent superior technology with the most experienced technicians. Hair Removal is our specialty & we are honored to serve our community for over 30 years.

Experts In Our Field
SERVING MINNESOTA FOR OVER 30 YEARS
Experience You Can Trust, Results You Will Love!
YOUR BEST RESULTS POSSIBLE ARE ACHIEVED WITH PERMANENT CHOICE
CHOSEN AS MINNESOTA'S BEST PER STAR TRIBUNE 2021
AWARDED MINNESOTA'S BEST LASER HAIR REMOVAL CENTER 12 YEARS IN A ROW
INDUSTRIES MOST EXPERIENCED LASER HAIR REMOVAL TECHNICIANS
30 YEARS COMPLETING PERMANENT HAIR REMOVAL TREATMENTS IN MINNESOTA
ALL LASER HAIR REMOVAL TREATMENTS ARE PERFORMED WITH CLASS IV DIODE LASERS
Offering electrolysis for hair colors no laser can remove – fine, blonde, white, gray & red hairs.
We are proud to be locally owned serving all of our Minnesota community!
Medically directed by Angela Hatfield, M.D., Board Certified Plastic Surgeon.
Sign Up for Our Newsletter!